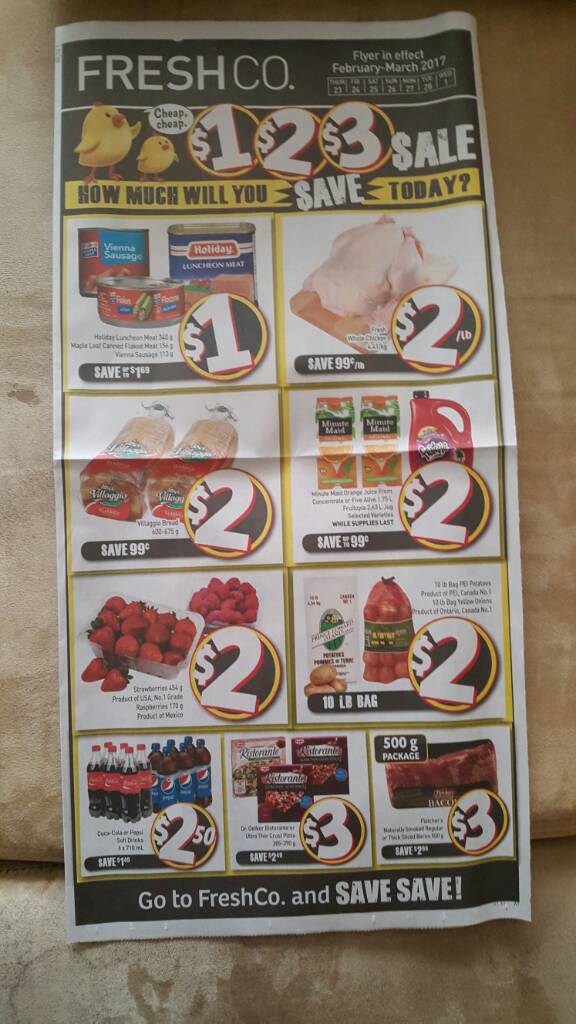 Here is a super early flyer sneak peek thanks to forum member sweetmomma! We now have an early look at the Freshco Ontario flyer valid for the week of February the 23rd to March the 1st. Click the link below to view the complete flyer on our forum. Here are some of the highlights that you can look forward to:
Maple Leaf Canned Flaked Meat or Vienna Sausage $1
Fresh Whole Chicken $2/lb
Villaggio Bread $2 (use the $1 printable coupon!)
10lb Bag Potatoes or Yellow Onions $2
6pk Coke or Pepsi Products $2.50
Dr. Oetker Pizzas $3
Strawberries 454g $2
Celery $1.25
Compliments English Muffins $1.25
Gill Ems or Juicy Jumbos $3
Maple Leaf Country Kitchen Smoked Ham Steak $2
Laughing Cow Cheese $2
I Can't Believe It's Not Butter or Imperial Margarine $1
Pillsbury Pizza Pops or Toaster Strudel $2
Bagel Bites $1
Catelli Smart or Healthy Harvest Pasta or Hamburger Helper 2/$3
Smart Food or Sun Chips $2
Betty Crocker Frosting 2/$3
Click here to view the Freshco Ontario flyer valid February 23rd to March 1st.