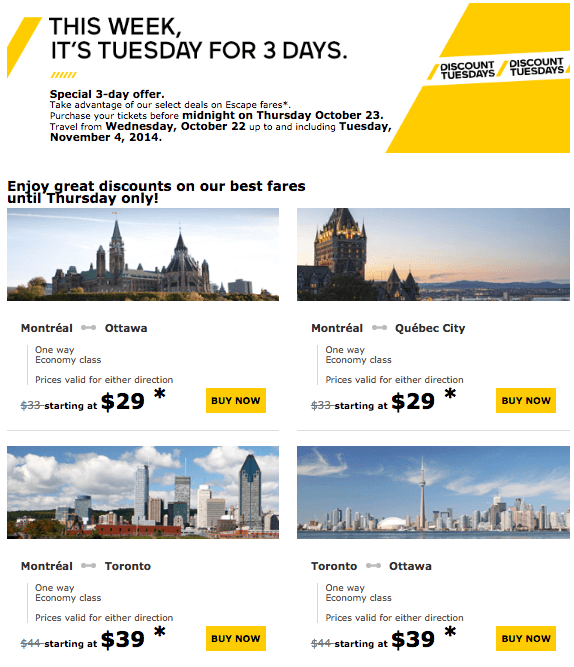 Today is Tuesday! Via Rail Canada has as usual Discount Tuesdays offers! But this time Tuesday offers last three days!
Take advantage of the select Discount Tuesdays Deals and Offers that are offered by Via Rail Canada today only. Purchase your tickets before midnight on Thursday, October 23, 2014 and travel anytime from Wednesday, October 22, 2014 through to Tuesday, November 4, 2014.
Valid for travel on the following routes (valid for both directions but not for intermediate stations):
London   ◄► Windsor           $29
Montreal ◄► Ottawa             $29
Montreal ◄► Quebec City    $29
Montreal ◄► Toronto           $39
Toronto   ◄► Niagara falls   $19
Toronto   ◄► Ottawa            $39
Ottawa    ◄► Ottawa             $39
Toronto  ◄► Windsor           $29
Tickets must be purchased today between 7am and 11:50pm. Remember that Economy Escape fare must be selected in order to receive the discount. Seats at these fares are limited and subject to availability. There are no additional discounts for seniors, youth, or children. Tickets are exchangeable for a 50% service charge as per fare category conditions.
Click here to book your trip during Via Rail Canada's Discount Tuesday Promotion