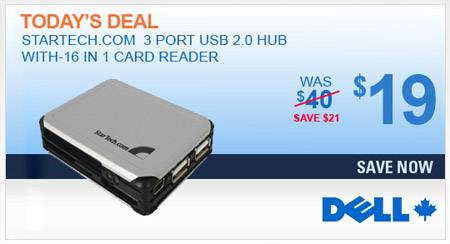 – Startech 3-Port USB 2.0 Hub and 16-in-1 Memory Card Reader for $40 $19
– Griffin iTrip Auto Universal Plus FM Transmitter and PowerJolt Auto Charger for $59 $29
– Dell Colour Laser Printer 3010cn for $429 $299
The memory card reader is an ok deal. If you have different card technologies that you need to easily read from your PC then go for it.
The Griffin iTrip is a good deal for iPod owners (or any other mp3 players that lack an FM tuner). It'll provide an FM Transmitter.
$299 for a colour laser printer is acceptable but why would you want to spend that much on a printer anyhow?
Shipping is free
Click here for more details on today's Dell Canada Days of Deals