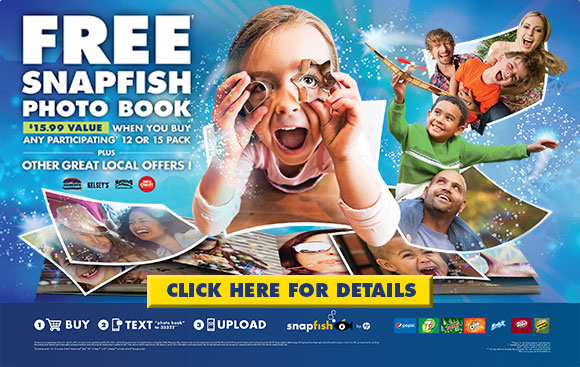 Pepsi Canada has a promotion running from now until March 31st (conveniently lined up with the March Break period) where you can receive one free SnapFish photo book if you buy one 12 or 15 pack of participating Pepsi products. The value of this 20 page photo book is $15.99, but you can also opt to use the $15.99 towards a more expensive photo book and instead have the discount subtracted from the total. The only photo book you will not be permitted to use this discount on is the SnapFish 2 x 3 mini photo book.

The steps to receive your free photo book from Pepsi are quite simple. First, you will have to purchase a qualifying Pepsi product which can include, Pepsi, Mountain Dew, Mug, 7Up, Dr. Pepper, Crush, Brisk products, or Schweppes soft drinks. After, you must text the phrase 'photo book' to the number, 33322, before April 30th, though your purchase must have been before March 31st. You will then receive a promo code to your cell phone, which you will have to enter when you login/register to place your order at SnapFish. You will have until June 30th, 2015 to use your promo code on SnapFish, after which it will no longer be valid.
There is a limit of two code activations per account, and each promo code sent by Pepsi will only be valid for one use.
Click here to learn more about the Pepsi and SnapFish promotion.