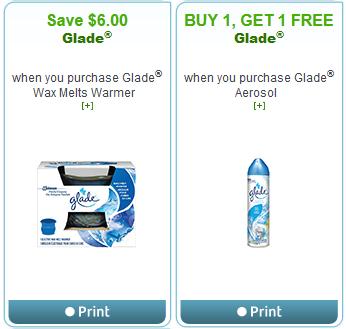 The SC Johnson Right@Home coupon portal has been updated today and there are a few new fantastic coupons available for some of your favorite SC Johnson products! Four brand new coupons have been added, and they are as follows:
$6 off Glade Wax Melts Warmer
BOGO Free Glade Aerosols
FREE Scrubbing Bubbles Toilet Gels wub Scrubbing Bubbles Toilet Brush Starter Kit
BOGO Free any Scrubbing Bubbles Bathroom Cleaner product
The Right@Home coupon portal allows you to print one of each coupon per account, and although it is powered by WebSaver there doesn't appear to be a limit of two per computer as there is through the WebSaver.ca portal. I don't generally use many printable coupons, but there are typically some pretty high value coupons available through this portal, and products often work out to free or even better when combined with offers from various rebate apps. You may even be able to make money with these coupons!
Click here to print your coupons through the Right@Home coupon portal.