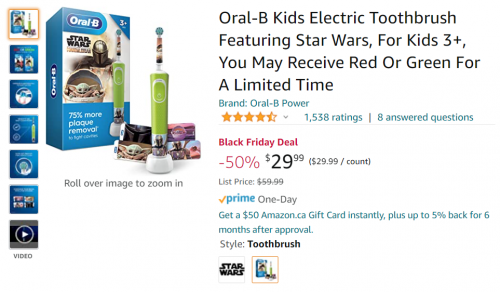 Amazon.ca has a great Black Friday deal on this Oral-B Star Wars Kids Electric Toothbrush. You can currently get 50% off the regular price and pay just $29.99 each.
You will either receive the red or green model, with one of the differences being the customizable stickers that come with it for the handle. The green model features Mandalorian stickers, while the red model features Darth Vader. Each set includes one rechargeable handle, one charger, one extra soft brush head, and four customizable stickers.
If you are looking for characters other than Star Wars, there is a Raya model that is also on sale today for $29.99. My children have the Star Wars ones, and if you are concerned about the cost of replacement brush heads, keep in mind that you can purchase compatible brush heads on Amazon for a fraction of the price. That is all that I purchase, and I've never actually bought the branded Oral-B ones.
Click here to get the Star Wars kids Oral-B toothbrush for 50% off
Click here to get the Raya kids Oral-B toothbrush for $29.99