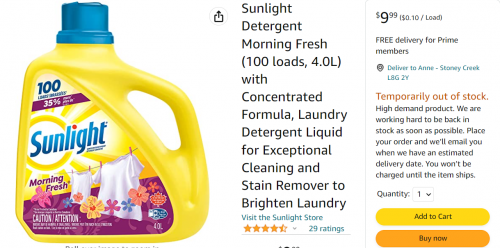 Amazon Canada has 4L Sunlight Morning Fresh Laundry Detergent for $9.99 at the moment, which is a savings of 40% off the regular price of $16.59. It is also regularly $16.97at Walmart Canada, so this is definitely a great price at 10 cents a load.
The item is temporarily out of stock though, but you are able to place an order. Amazon will email you when an estimated delivery date is available, and you will not be charged until the items is shipped. This item is returnable until January the 31st, 2023, so if you have any issues with this item leaking, etc. you are able to return it if you wish. The particular detergent can be used in both standard and high efficiency machines and works in all water temperatures both hot and cold.
Click here to order Sunlight Morning Fresh laundry detergent 100 loads from Amazon.ca.