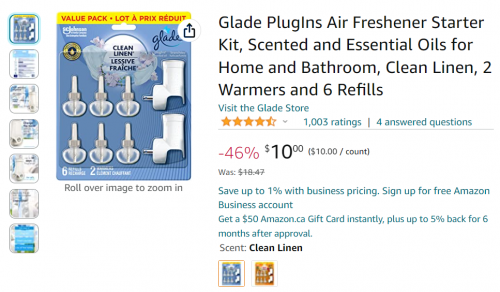 This Glade Plugins Air Freshener Starter Kit in the scent Clean Linen is currently priced at just $10 at Amazon Canada. The starter kit includes two warmers and six refills, and is regularly priced at $18.47. This makes the current price a savings of 46%!
Just make sure that you are choosing the Clean Linen scent, because the Hawaiian Breeze scent is still regular price. The Clean Linen does say that it ships within 1 to 2 months, but it may ship much sooner.
These Glade Air Fresheners are infused with essential oils, and on the lowest setting each refill will give you up to 50 days of fragrance. This particular scent has notes of clean linen along with juicy citrus.
Click here to shop Amazon Canada.