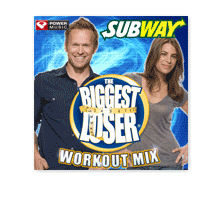 Just enter your email to get the free download mix, brought to you by the Biggest Loser and Subway. Please note these songs are not performed by the original artists.
Here's a list of songs:
1. Telephone (Lady Gaga)
2. In My Head (Jason Derulo)
3. Revolver (Madonna)
4. Empire State of Mind (Jay Z Feat. Alicia Keys)
5. Hard (Rihanna)
6. Bulletproof (La Roux)
7. Hey Soul Sister (Train)
8. Blah Blah Blah (Ke$ha)
9. According To You (Orianthi)
10. Whataya Want From Me (Adam Lambert)
11. Russian Roulette (Rihanna)
112. Need You Now (Lady Antebellum)
Thanks to bargain kitty for sharing this offer with us!