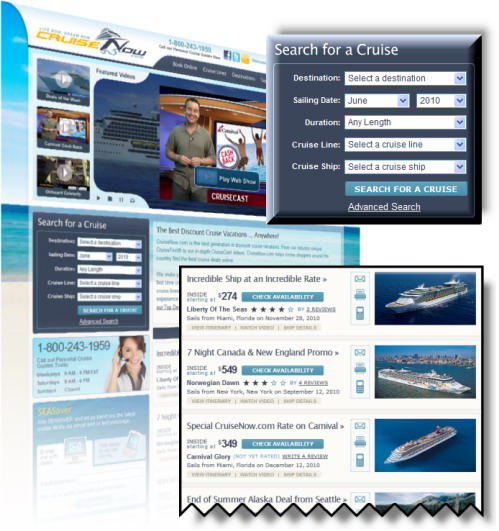 Not only can you search last minute cruise deals you can be alerted by "Sea Saver" email or text message when a deal that matches your criteria becomes available.  Everything you need to research discount cruise vacations is here too….cruise ship videos, customer reviews, destinations, itineraries, ship deck & cabin information etc.  Plus Facebook aficionados are invited to join CruiseNow.com's group and receive an additional discount, on top of a contant stream of the best cruise deals around.
John Keene, co-founder of CruiseNow.com and industry veteran uses his extensive knowledge to present cruise tips and hints in a fun yet educational format the company refers to as "edutainment"
"As a rapidly growing discount cruise broker, CruiseNow.com understands that using technology to educate and inform its customers will only make their cruising experience more rewarding."
Due to it's partnership with the world's leading cruise lines CruiseNow.com is able to list some of the best discount cruises available online with rates as low as $99 on select sailings. However, CruiseNow.com's impeccable service is what differentiate's it from other cruise brokers. Unlike other online booking services, CruiseNow.com's Personal Cruise Guides can serve you like a traditional travel agent. They are available by phone or email to assist you, from pre-booking until you arrive back at home.  For experienced cruise travelers, CruiseNow.com also offers an easy-to-use online booking engine, so you can take advantage of the site's last minute cruises even faster!