Future Shop's 13 Days of Web Deals are back! By now we all know the drill, but just in case we don't, here's a recap. Every day for 13 days Future Shop will be posting a different deal on their website. The deal will be web only, and there will be limited quantities — so you're going to want to order quick.
Now that we've gotten that our of the way, let's see what's on tap for Day One: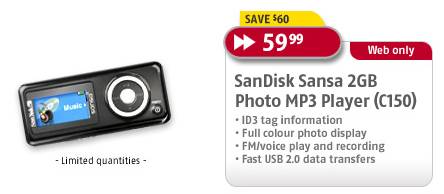 If you're looking for a better deal on a 2GB MP3 player, you're going to have a pretty hard time. The Sandisk Sansa 2GB Photo MP3 Player (C150). I don't have any personal experience with the device myself, but here are the highlights from the CNet review;
Score: 6.7 (good)

The good: The affordable SanDisk Sansa c100 series boasts a simple and effective control interface; a small but handy color LCD that displays photos and album art; extra features such as an FM tuner, voice recording, and photo support; and compatibility with Audible and WMA subscription services.

The bad: The SanDisk Sansa c100 series utilizes a proprietary USB cable and has poor battery life for a AAA unit. It also offers poor voice and FM recordings, and you can hear a tiny click when you start a track.

The bottom line: The SanDisk Sansa c100 series gives you a decent set of features for a decent price, but don't expect great battery life.
If you're still interested after all of that, you can pick this deal up here.