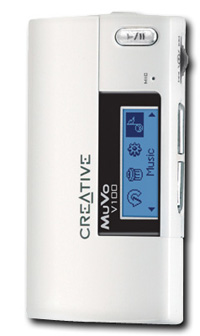 Best Buy has the Creative MuVo V100 1GB MP3 Player – White on sale for $59.99 (regular price $99.99).
You can
1) get this offer in-store (it's in this week's Best Buy flyer) or
2) order online and pick it up from store or
3) order online and have it delivered to your address (I think Best Buy charges for shipping now).
Creative produces brilliant, high quality and nice looking mp3 players. Adding mp3 files to this player is way more flexible than iPod's proprietary iTunes. You just plug it into your computer, drag and drop! Non of iPod's annoying restrictions or limitations. You can also use this mp3 player as a USB flash key to store your documents and other non-music files.
Only major drawback is the lack of a radio (FM tuner). I don't understand why iPods and Creative mp3 players don't have FM tuners. Maybe listening to the radio isn't cool anymore? jeez.
I strongly recommend this deal.
Get this Creative MuVo V100 1GB MP3 Player deal here.