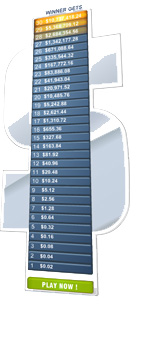 I have several moola.com invitations. If you're interested in a Moola invitation please send a message using the "Suggest a Deal" form on the right sidebar or just email me or leave comment below. Mention moola invitation so that I know what you're asking for. It's first come, first serve.
Once you get my invitation you'll have 3 new invitations. I'd really appreciate it if you can post these invitations in the comments section for others to join.
If you're already a Moola member here are a couple of winning tips:
– jot down the numbers 1 2 3 4 5 6 on a piece of paper and cross them out as your opponent plays them. This way you'll be able to keep track of the numbers played so far.
– Try not to blow your 6 too early, because sometimes it can be used to win ties.
– If the first number in the gold rush is 5, playing a 2 might be a good idea. 2 would win if opponent plays a 1 and wouldn't be a terrible loss otherwise.
If you have any more tips please post them in the comments section.