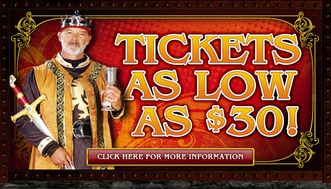 I got this offer from Travelzoo today, it is a really great offer if you have you can get 3 people to go with you, or there is a 2 person offer too. I've never been to Medieval Times, and have always wanted to go, it looks like a lot of fun!
Here Ye! Here Ye! All Travelzoo subjects are invited to the Medieval Times Toronto Castle for an authentic medieval banquet, with savings of up to 50% off regular price tickets.
For performances through March 7, adult tickets cost as little as $30 (reg. $62.95) per person with the purchase of a four-pack ($120 for four). Tickets are also discounted for groups smaller than four: Book a three-pack for $100 ($33.33 each) or two-pack for $75 ($37.50 each).
While guests enjoy a four-course banquet (vegetarian option available) served medieval style, six brave knights compete in games of skill, astride Andalusian stallions.
Get even closer to the action for $20 more per person with the Kings Royalty Package: VIP first row (all sections) or second row, center section seating, framed group entrance photo, "Behind the Scenes" DVD, commemorative program and Knights cheering banner.
To Book: Click here and follow the online prompts below to buy tickets:
– Select the Toronto Castle from the drop-down menu.
– Once the page has reloaded, choose date and enter quantity of tickets, then select "Regular" or choose seating upgrades
– Enter the code 2PCZ9 (for a 2-pack) or 3PCZ9 (for a 3-pack) or 4PCZ9 (for a 4-pack) and click "Continue."
– Fill out your information and see the discount on the following page.