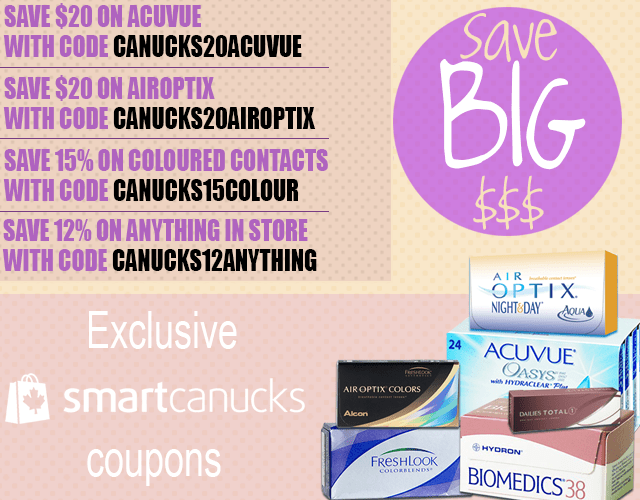 ContactsForLess.ca has 4 exclusive online deals for you to save even more money on your contact lens purchase online. Save 70% off or more on contact lenses online only at ContactsForLess.ca using Smart Canucks' exclusive codes. Plus, help save the Planet at the same time!
Save $20 on any Air Optix purchase with code: CANUCKS20AIROPTIX
Save 15% on all coloured contact lenses with code: CANUCKS15COLOUR
Save $20 on any Acuvue purchase with code: CANUCKS20ACUVUE
Save an extra 12% on your entire purchase with code: CANUCKS12ANYTHING
Offers expire July 1st, 2016. Coupons are individual use only (no stacking). Each coupon has a $100 minimum purchase requirement.
ContactsForLess.ca offers FREE EXPRESS shipping on all orders $100 and over. The cost of shipping will automatically be deducted at checkout on all eligible purchases.
ContactsForLess.ca donates 51% of their net profits to the non-profit organization of the customer's choice to help Save the Planet. Choose from over 47 different non-profit organizations that have been carefully selected for their vision in helping Save Our Planet.