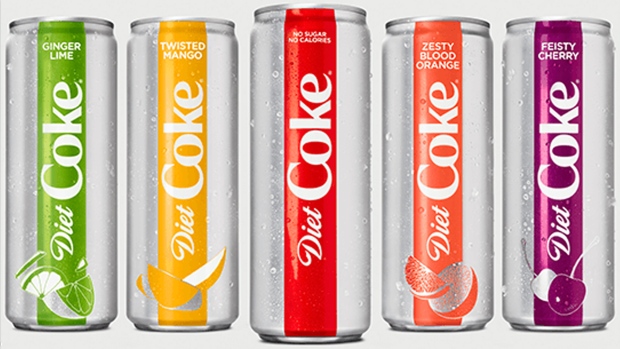 Coca-Cola Co. announced Wednesday that there are some changes in store for the Diet Coke brand. We won't see the changes in Canada until February, but we can expect to see a new design than includes a slimmer can, and a new range of flavours.
Sales of the 35-year-old soft drink have suffered as people have veered toward other flavoured drinks like fizzy water, but Diet Coke will now provide new options, with flavours such as Ginger Lime, Twisted Mango, Zesty Blood Orange, and Fiesty Cherry. The flavour of the original Diet Coke will remain unchanged however.
I don't think I've actually had Diet Coke since Coke Zero hit the scene, and I find Diet Coke to be it's own sort of entity that people either love or hate. If you are a Diet Coke drinker, how do you feel about these changes? Will you embrace the Fiesty Cherry and Twisted Mango, or stick to the original? If you don't drink Diet Coke will you be enticed by Zesty Blood Orange or Ginger Lime?