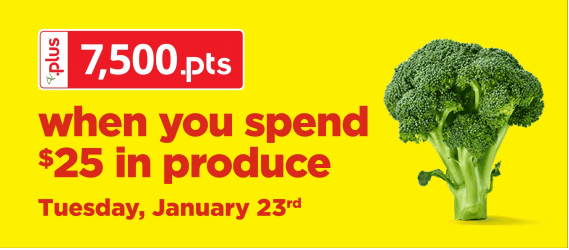 Here is great PC Plus Tuesday flash offer for those of you heading out shopping today, and if you weren't planning on shopping this may even change your mind.
Today only, Tuesday the 23rd of January, receive 7,500 PC Plus points when you spend $25 on produce. This means that you will get 30% back in PC Plus points on your purchase. If you are not able to come up with $25 worth of produce to purchase, keep in mind that lots of items in the produce department qualify for this offer, such as nuts found in that section, prepared salads, refrigerated dressing, and plenty more.
This offer is valid at Maxi in Quebec, and at Real Canadian Superstore Ontario and West. As it is as advertised in store offer, you will not see it appear in your PC Plus app, so there is no need to load anything. Be sure to maximize your return on points by combining sale prices and any personal produce offers that you may have.
Click here to view the Real Canadian Superstore Ontario flyer.