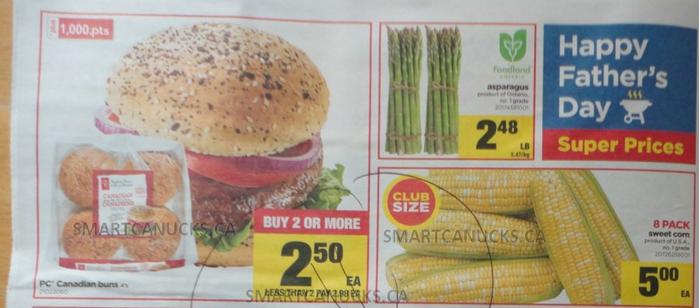 When deciding where you are going to shop tomorrow and for the rest of the week, you may want to consider a trip to Real Canadian Superstore Ontario for a couple of really great PC Plus points offers.
First, there is the offer of 4,000 PC Plus points when you spend $20 on produce. This is an easy way to rack up some points on fruits and vegetables for those summer picnics and bbq's. $20 isn't difficult to spend and of course you can price match. If you have those Old El Paso coupons from the packaging for $5 off produce when you buy a kit and a salsa, this would be a great time to use those in conjunction with this produce offer.
Next, there is the PC Canadian hamburger buns on sale for $2.50 when you buy two or more. There is an in store offer of 1,000 PC Plus points per package, but also, check your app for your personal offers as many have received a bonus offer of 1,500 points per package. If you do have the offer and purchase from Real Canadian Superstore then your buns will be free! I actually used my offer the other day at Fortinos to pick up the buns regularly priced $3.49 minus 50% off pink stickers, so after the points they were about a quarter per package.
Click here to view the Real Canadian Superstore flyer valid June the 15th to the 21st.