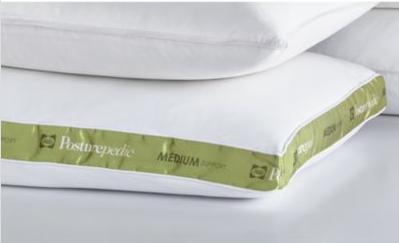 A really great pillow is essential for good night's sleep, and here is an offer from Sears Canada to help you save 50% on some excellent Sealy Posturepedic Pillows. I like to replace my pillows every few years with new ones and these quality pillows at 50% off would make a good choice. These Sealy Posturepedic Synthetic-Fill pillows feature a 300 thread count cotton sateen cover, and come in three varieties: firm, extra firm, and medium.
The standard size is just $14.99, which is 50% off the regular price of $19.99, and the queen size is now $19.99, regularly $39.99. Unfortunately if you do need king size they are currently out of stock online.
If you do order the pillows keep in mind that shipping is free to any of the 1300 Sears Canada pick up locations, with no minimum spend required. Returns are also very easy and quick at Sears. I have ordered many things from Sears, had them shipped to a store for free, and then conveniently returned them right away if they weren't what I was expecting.
Click here to order these Sealy Posturepedic Synthetic-Fill Pillows from Sears Canada.