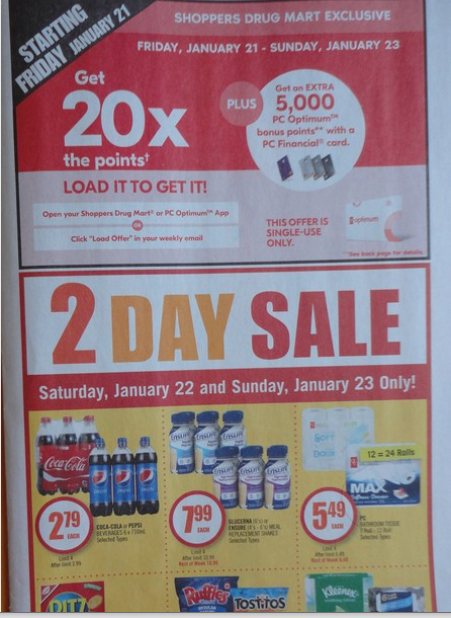 his weekend at Shoppers Drug Mart Canada, get 20x the PC Optimum points with a loadable offer that you will find in your account, plus get an extra 5,000 PC Optimum points when you pay for your purchase with a PC Financial card.
There is a two day sale this weekend, and here are some of the items you may wish to pick up during your 20x the points shop:
Coke or Pepsi 6pk $2.79
Ensure or Glucerna 6pk $7.99
PC Max Paper Towels $5.49
Christie Cookies or Crackers 2/$4
Ruffles or Tostitos 2/$5
Royale Facial Tissue 6pk $4.99
Neilson Chocolate Milk $1.29
No Name Butter $3.49
Dozen Eggs $2.69
Delissio or Dr. Oetker Thin Crust Pizzas 3/$10
Lean Cuisine or Stouffer's Entrees $1.99
No Name Bacon $4.99
The 20x the points offer will appear in your app with your personal offers on Thursday of this week. The amount that you are required to spend will vary by account so be sure to check your app.
Click here to view the upcoming flyer on our forum.