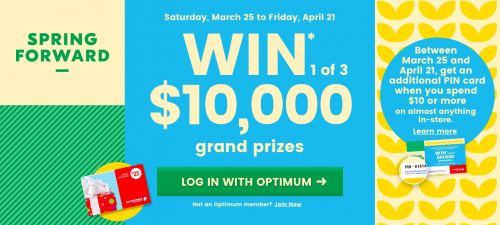 Shoppers Drug Mart Canada is hosting a new contest for the next month where you will have the possible chance of winning 1 of 3 grand prizes of $10,000. To enter this contest, you will have to make a $10 minimum purchase at Shoppers and use your Optimum Card at checkout. After this, you will receive a contest card that contains a PIN that must be entered into this website to register.
After registering your PIN online, you will be entered to win both the grand prize of $10,000 and the $25 Shoppers Drug Mart gift card.
Each person will be able to claim up to 28 contest cards, and there is also the option of claiming one PIN through a no purchase necessary method. To do this, you will have to go to this website and follow the instructions for qualifying for the no purchase necessary (NPN) PIN. There will be a limit of 1 NPN PIN per customer.
The contest runs from March 25th through till April 21st and the grand prize announcements will most likely be drawn and announced on April 26th.
Click here to check out this week's flyer from Shoppers Drug Mart Canada.