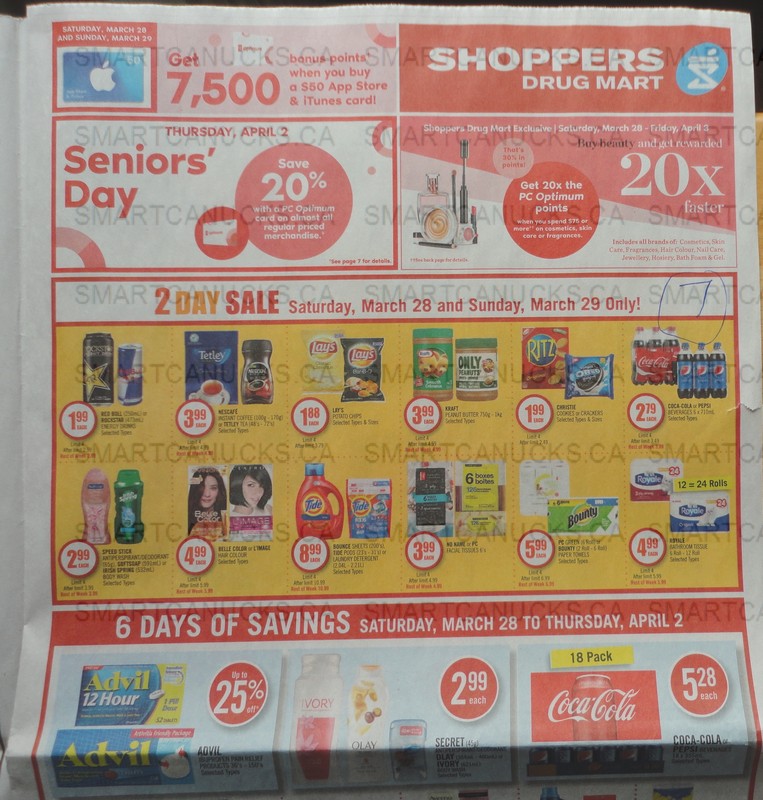 There's a lot going on in the upcoming Shoppers Drug Mart flyer, so let's run through it! All week long, get 20x the PC Optimum points when you spend $75 or more on cosmetics.
There is a two day sale on the Saturday and Sunday, and here are some of the advertised items:
Lay's $1.88
Kraft Peanut Butter $3.99
Christie Cookies or Crackers $1.99
Coke or Pepsi 6pk $2.79
Softsoap or Irish Spring Body Wash $2.99
Bounty Paper Towels $5.99
Royale Bathroom Tissue $4.99
Dozen Eggs $1.99
No Name Butter $3.49
PC Bacon $2.99
Wonder Bread $1.99
There is also a Super Sale on the Saturday and there are several pages of the flyer dedicated to specially priced items on both of these days, including electronics, candy, toys, housewares, and more!
There is also a gift card offer this week, and you will get 7,500 PC Optimum points when you purchase a $50 App Store & iTunes gift card.