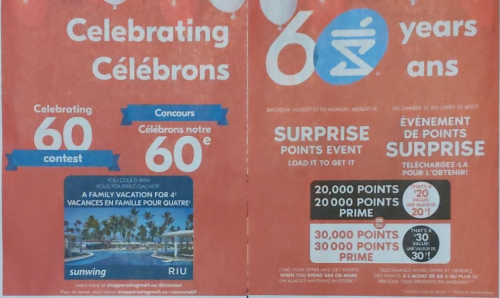 Shoppers Drug Mart Canada is celebrating 60 years, and this weekend there will be a special surprise points event! You will find a loadable offer in your app that will either give you 20,000 PC Optimum points when you spend $60, or 30,000 PC Optimum points when you spend $60! If you are lucky enough to get the 30,000 points offer, this is a value of 50% back in points. Your offer will be valid for one time use on Saturday and Sunday.
A two day sale is also happening on the weekend, and here are some of the advertised items and prices:
Miss Vicki's or Smartfood 2/$6
Christie Cookies or Crackers 2/$4
6pk Coke Products $3.49
6pk Pepsi Products 2/$6
PC Spring Water $2.29
Kraft Peanut Butter $4.99
Wonder Bread $2.49
Boost $8.99
Crest or Colgate Toothpaste .88
No Name or PC Facial Tissue $4.99
Royale Tiger Towels $6.99
Dozen Eggs $3.19
No Name Butter $4.29
No Name or PC Cheese Bars 2/$9
Lean Cuisine or Stouffer's Entrees 2/$5
Click here to view the flyer on our forum.