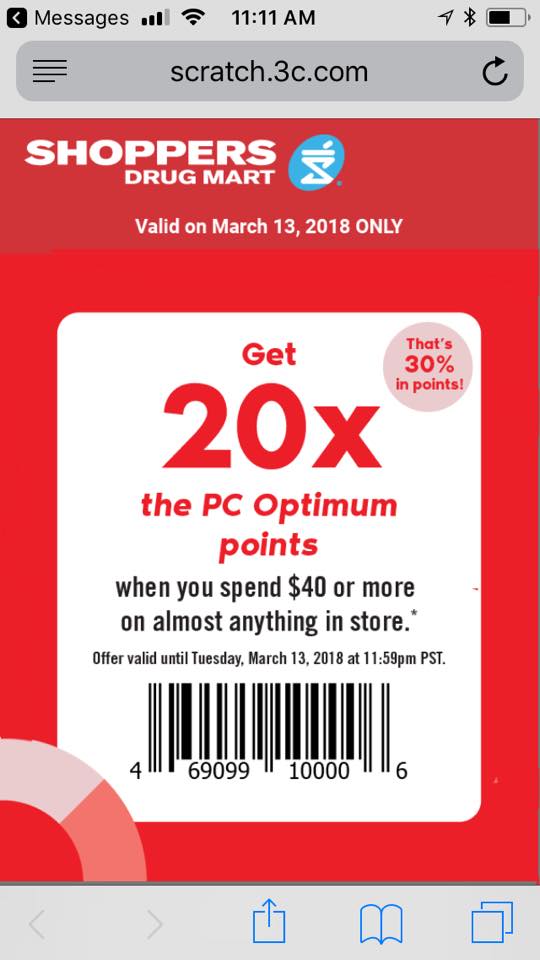 If you didn't get a chance to hit Shoppers Drug Mart for their 25,000 PC Optimum points when you spend $75 last weekend, or if you have some more shopping to do, there is a new Shoppers Drug Mart text offer today that may come in handy.
Today only, which is March the 13th, spend $40 or more on nearly anything in the store, and get 20x the PC Optimum points. Many of you have questions about what types of offers combine, and as a rule of thumb, offers containing the words "when you spend" do NOT combine at Shoppers Drug Mart. So if you had this offer and a personal offer of let's say, 20x the points when you spend $40 on cosmetics, these will not combine. However, you will be able to get extra points by purchasing specific products that you have offers for in conjunction with this offer.
You will need the cashier to scan the bar code above in addition to your PC Optimum card in order to get the points for your purchase. I haven't done one of these text offers lately and I do not see any blurb about points being added at a later date, so I'm not even sure when they are supposed to appear if you do use the coupon.