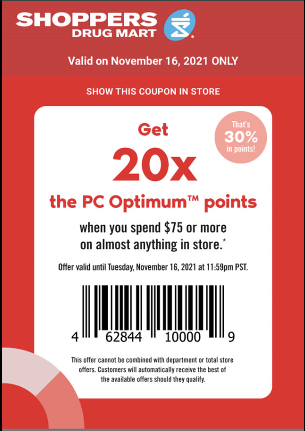 Get 20x the PC Optimum Points at Shopper Drug Mart Canada today only using the Tuesday text offer. If you normally receive these type of offers then you should have already received this offer by text today. If you did not receive this offer but would like to use it, anyone is free to use it by scanning a screen shot at the cash after your PC Optimum card.
The offer is valid until the end of today only, and you will see the points immediately on your receipt, as you would with any other 20x offer. $75 is a rather high spend amount, but remember that you can bring down the amount spent out of pocket with coupons. You might also be on the lookout for electronics such as Nintendo Switch, etc. for Christmas gifts, so it might be an easy spend for some of you.
Click here to view the Shoppers Drug Mart Canada flyer for this week.