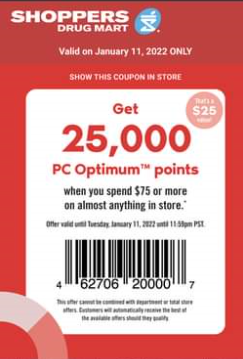 Today only, get 25,000 PC Optimum points when you spend $75 or more at Shoppers Drug Mart Canada on nearly anything in the store.
This text offer can be used by anyone today, whether you personally received it or not. If you have not signed up for these texts then you can use it by scanning a screen shot at the cash. If you would have difficulty spending $75 or more, remember that you can use coupons to bring down that amount. They count as if you were paying cash, and you simply need to ensure that your subtotal is $75 before the coupons are applied.
If you are new to PC Optimum points then keep in mind that these offers do not apply to items like gift cards and lottery. For this particular offer the amount that you need to spend is quite high, but that depends on what you are looking to buy. $75 is easy to spend on prestige cosmetics and electronics, so this might be easy to use for some. Just remember if you are planning to spend much more than $75 that it would certainly be better to wait for an offer where you would receive 20x the points for your entire purchase.
Click here to view the Shoppers Drug Mart Canada flyer for this week.