First of all, thanks to everyone who entered.  It was a very fun contest with just under 710 unique entries. If you would like to shop @ ECOcentricbags.com don't forget to use the code "SMARTCANUCKS25" at checkout to save yourself 25%.  Remember shipping is free over $60.  On a site like this thats not a hard level to get to lol!  Click here to check out ECOcentricbags.com again.
Anyways, on to the winner.
The winner of the $50 giftcard from ECOcentricbags is BOOKMOM! Congratulations. Please check your inbox on the forum.
The winner was generated using random.org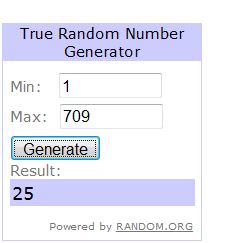 Thanks once again to all that entered. Happy Holidays.