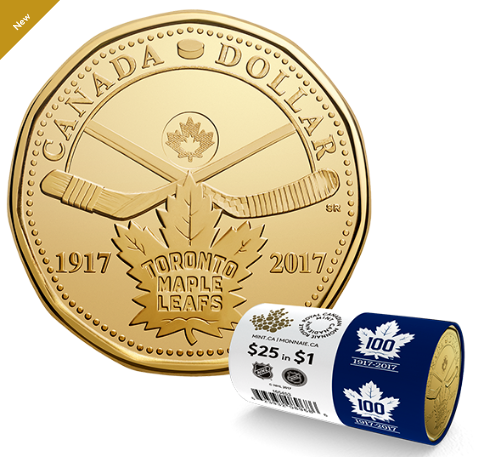 The Royal Canadian Mint is introducing two new coins to celebrate 100 years of the Toronto Maple Leafs. In 1917, Torontonians welcomed an exciting new reason to embrace winter—the NHL and the franchise that would become the Toronto Maple Leafs were born. The 100th Anniversary of The Toronto Maple Leafs Special Wrap Coin Roll (2017) coin depicts two hockey sticks face off above the Leafs' current maple leaf logo in this dynamic design by Canadian artist Steven Rosati. The vintage stick to the left honouring the team's storied past, while the stick to the right delivers an enthusiastic nod to the modern game. Get yours for only $54.95!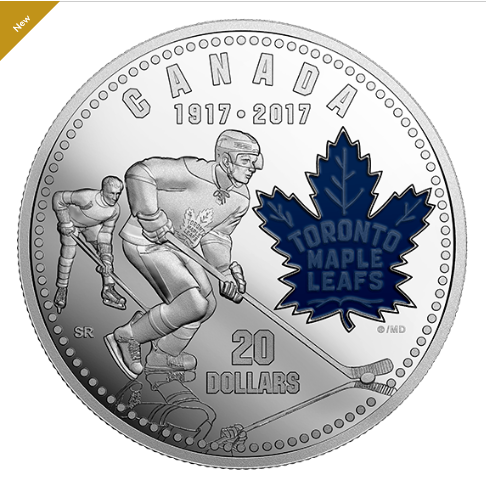 The Toronto Maple Leafs: 100 Years of Passion (2017)
pure silver coin celebrates the enduring spirit of Leafs™ Nation. It brings together players from past and present, and showcases the Leafs' current logo beautifully enhanced with enamel in the team's official blue. A ring of dots marks 100 years of winter fun and dreams; one dot leaving the line-up to double as a hockey puck.
Get yours for only $119.95!
The Royal Canadian Mint offers free shipping on all orders of $100+.