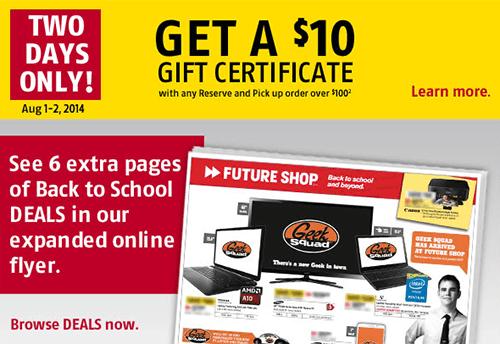 Shop online at Future Shop, reserve online on Aug 1 and 2 only and choose to pick up any order over $100 in store and you will receive a complimentary $10 gift certificate for your next Future Shop purchase in the next 30 days.
If you have never used Reserve & Pick Up, you will get an email confirming your order is ready at your chosen store, you show the associate the email and pay for your order at the store (great if you want an online deal but don't like shopping online).  Orders are usually ready in 20 minutes and will be held for 24 hours.
While it will be valid for 30 days from the date of pick up, it will be emailed to you within 14 days so you may have less than 30 days to use the gift certificate.  There is a limit of one gift certificate per order and per customer.
Click here for more details or to shop online at Future Shop.