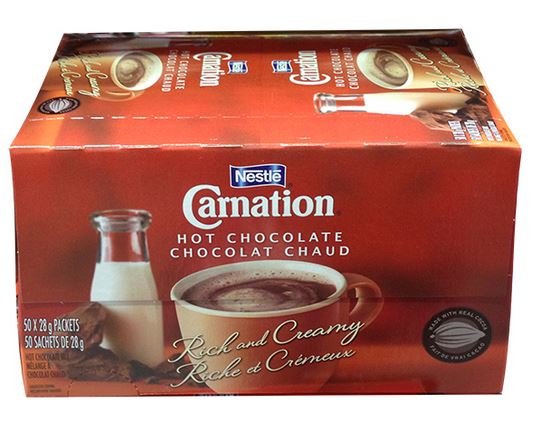 Remember this hot chocolate deal from November?  It is back! If you are not familiar with Wholesale Club, it is a cash and carry store from Loblaws and you can shop without a membership, although pay attention to the price tags as there are member prices, multibuy prices and non-member prices on some.
Now through February 8th, or while supplies last as they sold out quickly last time, you can get a 50 pack of Carnation hot chocolate sachets for $5.97. While we have seen the 10 packs go on sale for $1.99 recently and 500g tubs go on sale for $3.99, with this deal you get 1.4kg for just 5.99.  This is even cheaper that the giant Value Pack tubs sold at Walmart which are currently $15.34 for 68 servings although it does go on sale for around $12-13.
Prices may vary by store, so check your local flyer for full details.  In my local store, there was a space for these in the hot drinks aisle but none there, they were on a display in another area so if you don't find them, just ask as specials are often on end caps or in the centre of the store.