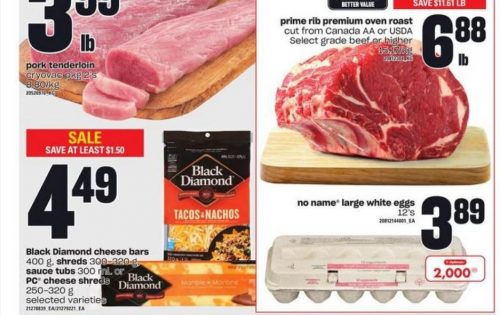 Loblaws Ontario has a fantastic deal on eggs starting tomorrow, so you might want to head there if this is something you will need. A dozen No Name large white eggs are advertised in flyer for $3.89 with an in-store offer of 2,000 PC Optimum points each. This makes the eggs just $1.89 after the value of the points. Here are some of the other deals from the flyer:
PC Pacific White Shrimp Ring with Milk Cocktail Sauce $19.99n + 6,000 points
Large Vegetable or Fruit Platter from $21 + 6,000 points
Planters Cashews, Almonds, or Mixed Nuts $2.99 Member Price
Bluewater Fish or Shrimp, Breaded or Battered $5.99 Member Price
Black Diamond Cheese Bars or Shredded $4.49
PC Frozen Fruit $3.99
Basse Mix $4.99 Member Price
2,000 points when you spend $9 on Country Harvest Bread or Bagels
Cashmere Bathroom Tissue 20=60 Rolls or Sponge Towels 6=12 Rolls $12.99 Member Price
4,000 points for every $15 spent on Robin Hood or Five Roses Flour, or Robin Hood Almond or Coconut Flour, or Gluten Free Flour
Click here for the Loblaws Ontario flyer valid October 5th – 11th.