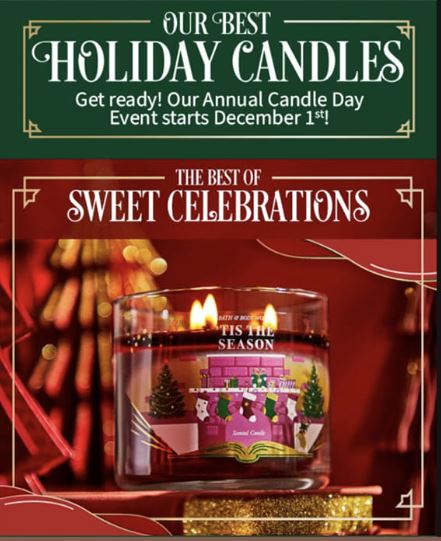 Prepare yourselves, because Bath & Body Works Canada's Annual Candle Day sale will being tomorrow, December the 1st. 3-Wick candles will be the lowest price of the year on this day, and the sale will include all of the holiday scents. You can head over to the Bath & Body Works Canada website and start building you cart.
Although we do not yet know what the price of the 3-wick candles will be during the sale, they have been $11.95 for the last few years, so they will likely be the same price or slightly higher. Shipping is currently $9.99 on all orders, and there is no free shipping with any amount spent unless there is a code. However, there isn't like to be a code available in combination with this sale. If you recently signed up for email to get a code that you can use, you may be able to get free shipping. If there is a code required to get the candles at the sale price, you will not be able to apple an email code.
Click here to start making your selection for Annual Candle Day at Bath & Body Works Canada.