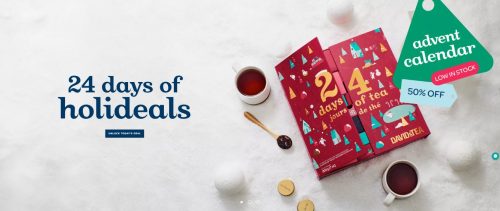 DAVIDsTEA Canada has a 24 Days of Holideals countdown on now, and the offer for today, November the 29th, is the Advent Calendar for 50% off. It appears that this item is already low in stock, so be sure to jump on this quickly before it sells out. Regularly priced at $55, today only the advent calendar is just $27. There is only one calendar that is available, and that is the 24 Trips with Tea Advent Calendar, which contains the following certified organic and vegan teas:
Turmeric Chai Tea Organic
 Organic Korean Sejak Tea
 Organic Hojicha Tea
 Organic Japanese Sencha Tea
 Organic Afternoon Darjeeling Tea
Organic Saigon Chai
Organic North African Mint Tea
Organic Calming Chamomile Tea
 Organic Silk Dragon Jasmine Tea
 Organic Jade Tieguanyin Tea
 Organic Cupid's Breakfast Tea
 Organic Mint Everest Tea
 Organic Nepal White Tea
 Organic Peppermint Amour Tea
 Organic Simply Hibiscus Tea
 Organic David's Breakfast Blend
 Organic Cream of Earl Grey Tea
 Organic Chamomile Dreamland Tea
 Organic Brazilian Maté Tea
 Organic Nepal Green Tea
 Organic Lavender Earl Grey Tea
 Ashwagandha Chai Tea Organic
 Organic Southern Lemon Tea
Shipping is free on orders of $49 or more, so you can grab two of the calendars, or you can sign up for emails to receive a code for free shipping on your order.
Click here to save 50% on the Advent Calendar today only at DAVIDsTEA Canada.