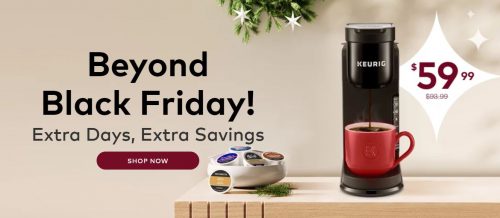 Keurig Canada has a Beyond Black Friday sale on now, with savings on select units for a limited time. Shipping is free on orders of $55 or more, and here are the Keurig products that are part of the sale:
Keurig K-Supreme Single Serve Coffeemaker $97.98 (save $92.01)
Keurig K-Express Single Serve Coffeemaker $59.99 (save $34)
Keurig K-Mini Plus Single Serve Coffeemaker $69.99 (save $40)
Keurig K Slim + ICED Single Serve K-Cup Pod Coffeemaker $99.90 (save $50.09)
There is also the option to build a Starter Kit to save 50% off select models. This is an option for the following brewers:
Keurig K Supreme SMART Single Serve Coffeemaker $134.99 with starter kit (reg. $269.99)
Keurig Single Serve K-Iced Plus Coffeemaker $84.99 with starter kit (reg. $169.99)
Keurig K-Duo+ Single Serve and Carafe Coffeemaker $139.9 with starter kit (reg. $279.99)
To build your starter kit you will commit to purchasing 16 boxes of K-Cups over a 12 month period. You will need to place 4 order of a minimum of 4 boxes during that time. If the purchase commitment isn't met after 12 months you will be charged the balance of the coffeemaker.
Click here to shop these offers at Keurig Canada.