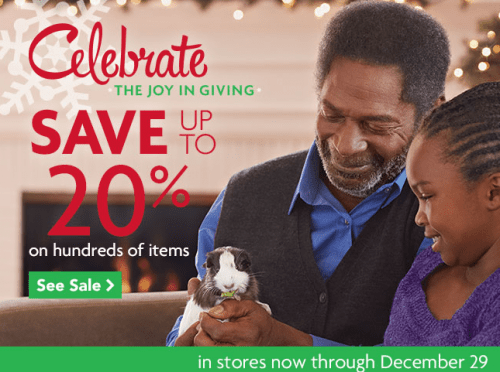 Shop Online Petsmart.ca this holiday season and save on some great gifts for the pets! Celebrate the Joy in Giving and unleash the sales at PetSmart! Save up to 20% on hundred of items in stores only. This PetSmart sale offer will be valid through December 29th 2013.
Some of PetSmarts items on sale are:
Kong Pet Bed – Now $46.19
Bret Michaels PetS Rock Bones Dress – Now $15.99
Top Paw Dog Ornaments (Many Breeds to Choose From) – Now $4.19
Martha Stewarts Cat Sleep Sack – Now $27.99
Martha Stewart Cat Sleep Mat – Now $20.99
And much more!
Check out all of the incredible sales at PetSmart.ca here.
Don't forget to sign up for the PerSmart PetPerks card to unleash even more purrfect sales! Sign up for PetPerks here.