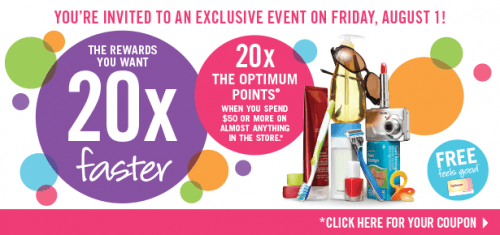 If you are not a huge fan of the Petro Canada gift card offer on the weekend at Shoppers Drug Mart, they now have a printable coupon for 20x Optimum points when you shop on Friday 1 August.
The usual exclusions apply for gift cards, lottery, transit tickets and other non-pointable items but Friday evenings are a great time to shop as they start marking down sales for the next week and restocking so you can often get the best deals of both flyers.
Points will be added on August 15th, so you do have to wait if you are thinking of combining a personalized coupon that specifies it cannot be combined with an Optimum offer.
Click here to get your printable coupon and don't forget to check out our coupon matchups to help save you even more.