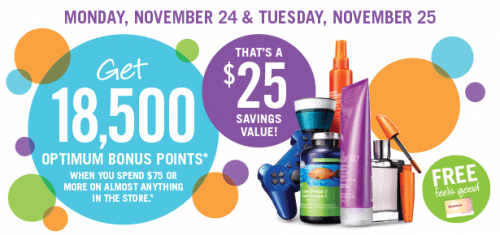 Shoppers Drug Mart Canada has a hot new offer available for November 24th and November 25th, 2014!
You will get 18,500 Optimum Bonus Points when you spend $75 or more on almost anything in the entire store at your local Shoppers Drug Mart location on Monday, November 24th and Tuesday November 25th, 2014. That is a $25 savings value!
This offer from Shoppers Drug Mart excludes prescription purchases, products that contain codeine, not pointable items, lottery tickets, transit tickets and passes, event tickets, gift cards, prepaid cards. This offer can apply to photofinishing services that are picked up and paid for on the day of the offer only.
You can only earn a maximum of 18,500 Optimum Bonus Points no matter what the total of your transaction is! Use this opportunity to grab some Christmas gifts this Holiday Season and spoil yourself a little bit with some Bonus Shoppers Optimum Points!