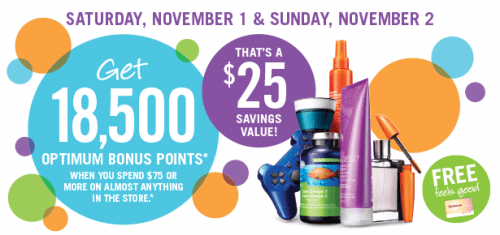 Shoppers Drug Mart Canada has a brand new offer! How do you feel about $25 worth of FREE Shoppers Optimum Bonus Points? Keep reading.
Check out our Shoppers Drug Mart flyers in the SmartCanucks Canada Flyers Section here!
You can head into your local Shoppers Drug Mart Canada location on Saturday November 1st and Sunday November 2nd to take advantage of their new promotion. You will be able to get 18,500 Optimum Bonus Points when you spend $75 or more on almost anything in store! That is a $25 savings value! Wow!
This offer is valid on the purchase of eligible products when you use your Shoppers Optimum Card. There are some items that are not included in this offer such as lottery tickets, stamps, transit tickets, event tickets, gift cards, prepaid cards, an more. This offer will apply to photofinishing services that are picked up and paid for on the days of this promotion.
Click here to check out this Shoppers Drug Mart Canada Offer!