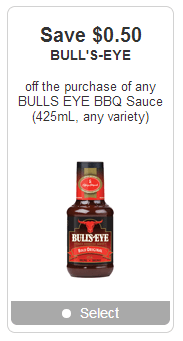 There is another brand new printable coupon available through the hidden WebSaver.ca Canada Kraft Coupon Portal!
Save $0.50 off the purchase of any one (1) Bulls-Eye BBQ Sauce
This coupon can be applied to the 425ml bottle of any variety. Coupon available while quantities last.
I remember when Target had this sauce on clearance sale for only $0.60. That would have been a glorious time to have a coupon like this! Could you imagine only paying $0.10 for this delicious sauce? Now I am dreaming.