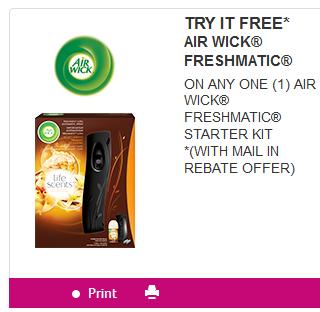 A brand new mail in rebate is available through the SmartSaver.ca printable coupon and rebate portal. There is now a "Try It Free" offer, valid on any one Air Wick Freshmatic Starter Kit product.
To print your rebate form you must sign in or register at SmartSaver.ca which you can find by clicking the link below. You may print one form only per account, and the offer expires on September the 29th, 2016. If you wish to participate be sure to print your form well in advance of this date. Each rebate is limited in number and you require the original form.
The maximum rebate amount appears to be $17.25, so make sure you factor in the taxes as well when making your purchase, ensuring you don't go over this amount. SmartSaver, please make the forms print just a TEENY bit bigger so the wording can be read! These forms are VERY difficult to read!
There is also a $2 coupon available for any one Air Wick Freshmatic product, but much like that Resolve mail in rebate also available through SmartSaver, it just will not print.
Click here to print your mail in rebate form to try Air Wick Freshmatic for free.