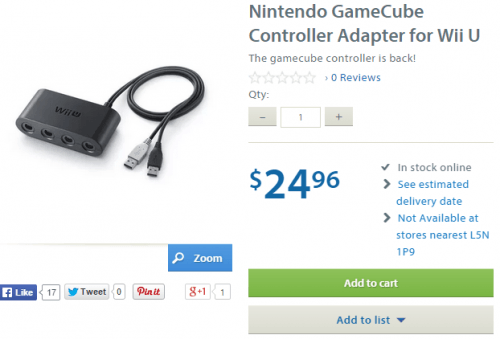 Super Smash Bros fans, check this out!
This cool little adapter for the Nintendo Wii U is back in stock at Walmart.ca Canada Online for $24.96. Although this is the regular price ( and $2 more than BestBuy.ca which is Out of Stock ), many of  you Super Smash Bros fans grew up playing the Super Smash Bros. Melee for your Nintendo Gamecube System. Wouldn't you prefer to feel like the good old days and play your favourite game with the Nintendo Gamecube controller?
To honour that, Nintendo has released this Gamecube Controller Adapter that will allow you to play your new Super Smash Bros for Nintendo Wii and Nintendo Wii U with your classic controller. Up to four controllers can connect.
Right now, the only game supported by this Adapter is Super Smash Bros.
You will also receive FREE Standard Shipping with no minimum purchase from Walmart Canada Online!