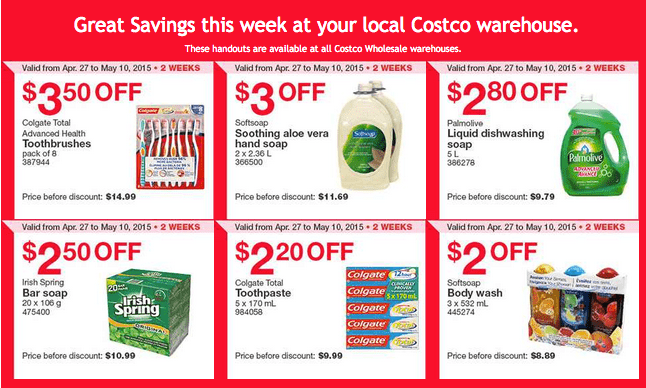 Good morning! Costco Canada has released now the new  weekly instant discount handouts! This week, the Costco handouts are available at all Costco wholesale warehouses in Canada.
These Costco Canada eastern instant flyers are valid from today, Monday, April 27 until Sunday, May 10, 2015. Only Costco members in good standing may use these instant savings handouts and Costco discount will be automatically added when you purchase any of these items.
The new Costco Canada instant weekly savings handouts for all Costco wholesale warehouses at all provinces in Canada include:
$3.50 OFF Colgate Total Advanced Health Toothbrushes. pack of 8. Price before discount: $14.99.
$3 OFF Softsoap Soothing aloe vera hand soap. 2 x 2.36 L. Price before discount: $11.69.
$2.80 OFF Palmolive Liquid dishwashing soap. 5 L. Price before discount: $9.79.
$2.50 OFF Irish Spring Bar soap. 20 x 106 g. Price before discount: $10.99.
$2.20 OFF Colgate Total Toothpaste. 5 x 170 mL. Price before discount: $9.99.
$2 OFF Softsoap Body wash. 3 x 532 mL. 445274. Price before discount: $8.89.
Click here to view all Costco Canada instant weekly handouts fly­ers.