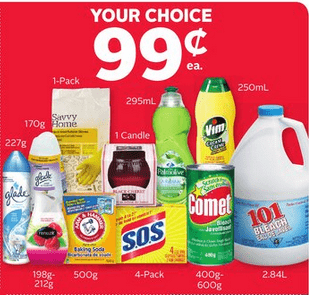 Shop at Rexall this week and pick up some household and cleaning supplies for just $0.99.  This sale includes:
Glade aerosols & solids
Arm & Hammer baking soda
Savvy Home rubber gloves
SOS 4-pack
Comet cleaner 400-600g
Palmolive 295ml
Vim cleaner 250ml
101 Bleach 2.84L
Alcan foil 25′ (Fri-Sun only)
Glad cling wrap 30m (Fri-Sun only)
Glad zipper bags (Fri-Sun only)
Use these deals to make the most of the 50 Air Miles offer this weekend.  These offers are available at Rexall stores in both Ontario and Western Canada but are mostly small sizes so many coupons will exclude them.  Click here to view the Rexall flyer.