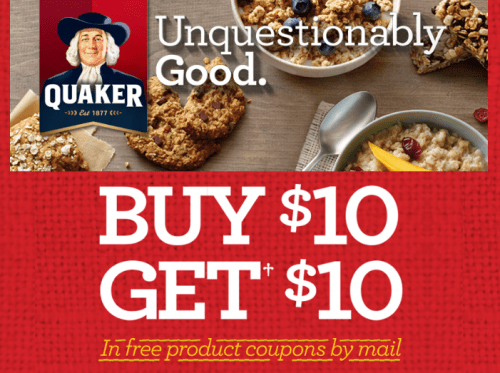 Get $10 in free Quaker Canada product coupons by mail when you spend $10 on Quaker items! All you have to do is make $10 worth of Quaker purchases in the same transaction between April 13 and June 14, 2016, take a picture of your receipt, enter your address information, and submit it online! Once your receipt is verified (this takes 2 or 3 days), Quaker will send you a text message or email to confirm. You will then receive your product coupons in the mail in about 4 weeks times!
Here's a list of participating products (any flavour/variety): 
Oatmeal/Instant Multigrain Hot Cereal, Hot Cereal Cups, Oats, Baking Mixes, Soft Baked Oatmeal Cookies, Granola Bars, Harvest Breakfast Squares, cereals, and Captain Crunch cereal.