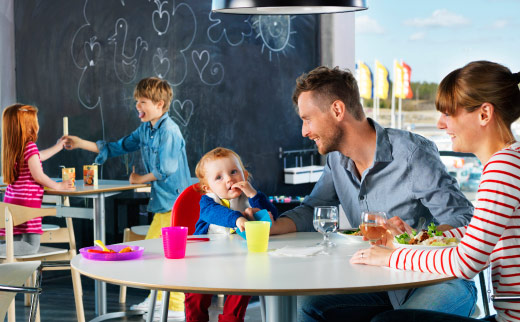 If you are an IKEA Shopper, you will appreciate their Daily Deals on Meals in their IKEA Store Restaurants!
While you're browsing the IKEA store, take a little time to relax and spend time with the family in the IKEA Restaurant. You can either stay for a meal or grab a quick snack, whatever your heart may desire. There are also high chairs, changing areas and a play area for the kids at most locations as well as FREE Organic Baby Food with the purchase of your meal. No other restaurant offers that!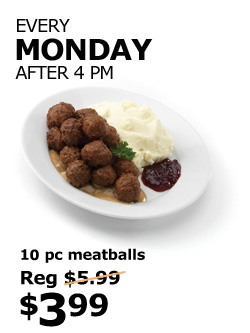 Here are the Swedish-style dishes and specials on the IKEA Restaurant Canada Menu:
Every Monday After 4 PM – 10 Piece Meatballs – Regularly $5.99 - now $3.99
Every Tuesday After 4 PM – Haddock and Chips – Regularly $5.99 - now $4.99
Every Wednesday After 4 PM – Salmon with Hollandaise – Regularly $7.99 - now $5.99
Every Thursday After 4 PM – Kids Eat FREE! With the purchase of an adult meal (Offer not valid at IKEA Richmond)
I hear that right now the IKEA Richmond restaurant location is on strike, so hopefully that lifts soon so you can enjoy these offers.
You can also get a quick snack on your way out of the IKEA Canada store. Grab a quick Cinnamon Bun and Coffee Combo for $2 or a Hot Dog for only $0.75.