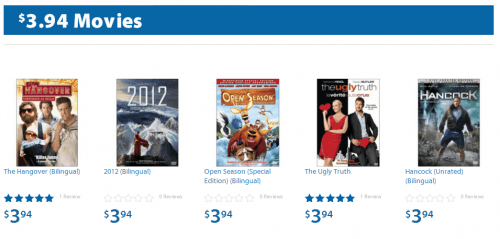 Walmart Canada Online and In Stores has a hot new Clearance Sale offer! You can purchase select DVD movie titles for only $3.94 online and in select stores. This is a fantastic time to stock up on future birthday presents, christmas presents or more! I am going to add a few of these to my cart for future rainy days

Some of the movies on clearance sale for only $3.94 include:
The Hangover Bilingual
2012 Bilingua
Open Season Special Edition
The Ugly Truth
Hancock
The Other Guys
The Expendables
Daybreakers
Get Him to the Greek
A Walk to Remember
The Bucket List
Inception
Life as We Know It
Due Date
Hereafter
The Dark Knight
The Tourist
Paranormal Activity 2
Green Lantern
Horrible Bosses (love this one)
Crazy, Stupid, Love
and more!
If the movie you desire is sold out online, head into your local Walmart Canada store to see if they may have it in stock still! The great thing about ordering online from Walmart.ca, is that even if you only purchase ONE movie you will still receive FREE Standard Shipping.
Click here to check out all of the DVD Movie Titles on sale for $3.94 at Walmart Canada!