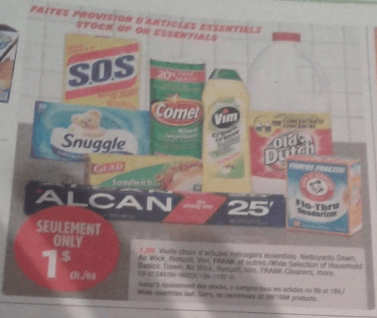 I know many of you love this sale.  Canadian Tire's upcoming flyer shows their $1 sale on cleaning products and kitchen essentials.  Some of these products are smaller than you would find in many stores, so they are not all great deals but others are stock up prices.  Included in the sale are:
Airwick
Alcan foil 25′
Arm & Hammer baking soda deodorizer
Comet
Dawn dish soap
FRANK cleaning products
Glad sandwich bags
Old Dutch bleach
Renzuit
SOS
Snuggle
Plus other household essentials.  Click here to view the Quebec flyer sneak peek.  Their flyer is usually similar in other provinces.