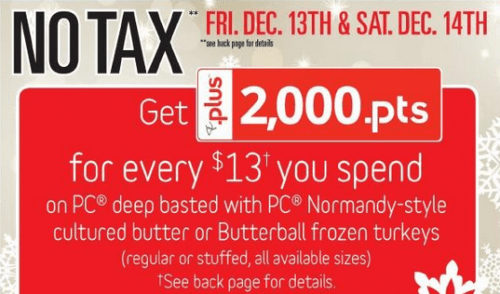 Loblaws Canada has a fantastic sale for you! This Friday and Saturday they are having their No HST Sales Event! Shop at Loblaws Canada to take advantage of their offer. On Friday December 13th (Today) and Saturday December 14th 2013 you will be able to shop at Loblaws and pay no taxes! You will also receive some extra PC Points for certain purchases you make!
Extra Point Purchases:
Get BONUS 2,000 PC Points for every $13 you spend on PC Deep Basted with PC Normandy Style Cultured Butter or Butterball Frozen Turkeys (regular or stuffed)
Get BONUS 300 PC Points on your Purchase of Jell-O Refrigerated Ready-to-Eat Snacks
Get BONUS 1,200 PC Points on Maclaren's Imperial Cold Pack Cheese Product
Get BONUS 1,700 PC Points on Cracker Barrel Cheese Snacks or Kraft Parmesan Shaved Cheese
Get BONUS 300 PC Points on Miracle Whip
Get Bonus 800 PC Points on Kraft Dressing
Get Bonus 900 PC Points on Bird's Custard Powder or Baker's Chocolate Squares or Magic Baking Powder
Get BONUS 2,000 PC Points on Nabob Roast and Ground or Whole Bean Coffee
View Loblaws Flyer now to see what you can purchase without spending taxes!