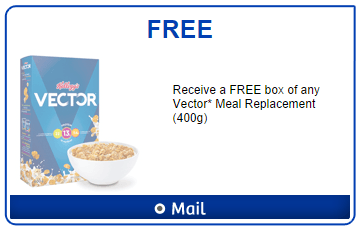 Thank you to our SmartCanucks member CouponLady for letting us know about this smokin' hot deal!
WebSaver.ca Canada has a brand new Hidden Coupon their Kelloggs Vector Coupon Portal!
Get a FREE box of any Vector Meal Replacement
This WebSaver.ca Canada Hidden coupon is available via print only at this time. It is valued at $6.49. I love this Kellogg's Vector Meal Replacement Cereal. It is the perfect way to get your motor running in the morning! I personally don't have much time to make a filling breakfast between feeding my son and working – this stuff is excellent! I even bring it dry in Ziploc bags when I take my dog for long walks so I have something to snack on.
Get your hidden WebSaver.ca Canada Free Product Coupon here!