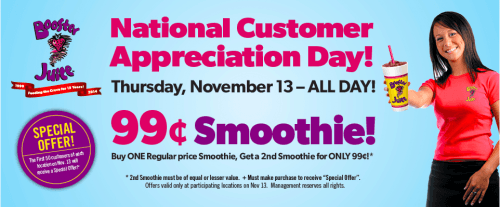 To celebrate their 15th Anniversary, Booster Juice Canada will be celebrating their annual Customer Appreciation Day this Thursday, November 13th by having a special offer where when you buy one smoothie, you can receive a second smoothie of equal or lesser value for only 99¢!
The average price for a regular sized Booster Juice Smoothie can be anywhere between $5.25-$6.25 (without any extras). But if you were to get the second smoothie for only 99¢, and then split the cost with a friend, you could get 2 regular sized smoothies for the price of one snack sized smoothie ($3.12-$3.62).
In addition to the 99¢ offer, Booster Juice will also be giving away a special anniversary gift to the first 50 customers on November 13th at each participating location!
Click here to check out the special offers from Booster Juice Canada.