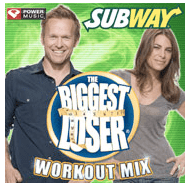 Who doesn't need some music to work out too? You can get a free workout mix, sponsored by The Biggest Loser and Subway. This is a digital download, and you will need to register with the website as well. This file is 129.3MB in zip format.
The tracklisting is as such:
1 Bleeding Love Leona Lewis
2 American Boy Estelle
3 Umbrella Rihanna
4 Stronger Kanye West
5 4 Minutes Madonna
6 Love Story Taylor Swift
7 No Surprise Daughtry
8 Sugar Flo Rida
9 Paparazzi Lady GaGa
10 When I Grow Up The Pussycat Dolls
11 Second Chance Shinedown
12 Damaged Danity Kane
Click here to get your free mix! and input the code "sw107" after adding the item to your cart.
Thanks to cora888 for sharing this offer with us!