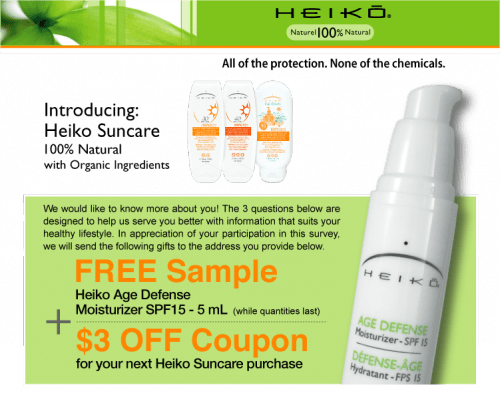 Heiko Suncare is made with 100% Natural and Organic Ingredients.  This sample would be perfect to throw into your bag or purse for when you are on the go and need a little extra protection.
Heiko products are perfectly suited for all skin types, helping restore your skin's balance quickly and continuously. Several hours after an application, the organically grown ingredients continue to energize the skin. Essential oils delicately enhance our products to make them soothing for both your skin and your senses.
You will also get a $3.00 printable coupon off any Heiko SPF 30, Heiko SPF 40 and Heiko SPF 40 Kids valid until September 30, 2009.  You can find Heiko brands for sale at Loblaws, Rexall and Pharma Plus
Click here to visit Heiko.ca and sign up for your free sample while supplies last.
**thank you Shawnsgal**