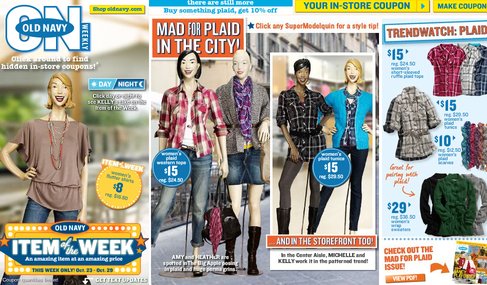 Old Navy offers awesome coupons up for grabs on their Old Navy Weekly webpage. Coupons are up every Thursday night, no one knows when they will be posted, you just gotta check it throughout the evening. The high value coupons are $75 off $100, $50 off $100, and 25% off. This promotion has been ongoing for some time now, and has been very successful.
These coupons are good in Canada. And are valid for a week starting Thursday. They can be used on regular, sale and clearance items in store. They are available in limited quantities, the $75 off is gone within seconds of the site updating.
Here are the coupon locations this week, coupons are valid from Thursday Oct 22 – Wednesday October 28.
$75 off $100 – None available this week!
$50 off $100 – Put the bracelets on Michelle's wrist (girl in black plaid shirt).
20% off – Catch the bird when it lands on blond girl's head
15% off – Click on grey/white plaid shirt (top right)
$10 off $50 – Put orange scarf on green wrap sweater
$25 off $100 – Click on Michelle's boots one at a time.
10% off when you buy plaid – Put the red scarf and put on girl wearing red plaid shirt.
$5 off – located in "mad for plaid" pdf file
I wasn't around this week to look for these, I was out buying a car! Sorry for the late reply. Apparently the site was messing up this week, people were saying certain coupons were gone, some were still able to get them. The big ones were gone immediately and no one knew where the elusive $75 off coupon was. Maintenance screens were popping up. It sounds like I missed a lot of fun..not.
Look for your coupons by clicking here!