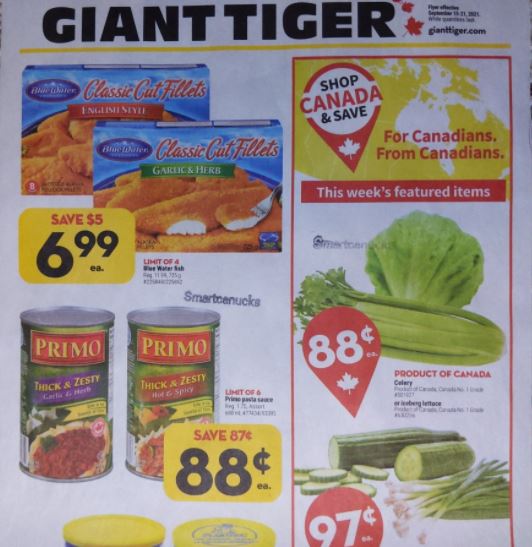 A new Giant Tiger Canada flyer starts tomorrow, which is one day sooner than most store flyers. If you what will be shopping for happens to be on sale at Giant Tiger, you just might be able to get a head start on some of your shopping for the week. Don't forget that Giant Tiger continues to price match as well! Check with your location to see which competitor's they will match. Here's what's in the flyer for the week of September the 15th to the 21st:
ED Smith Triple Fruits Jam $2.47
Wonder Bread or Buns $1.88
Lactantia Cream $1.37
Blue Water Breaded Fish $6.99
Celery or Iceberg Lettuce .88
Primo Pasta Sauce .88
Chapman's Premium Ice Cream or Yukon Novelties $4.47
Delissio Rising Crust Pizza $4.88
Belmont Burgers $6.97
Piller's Meat Sticks $6.97
Black Diamond Cheese Bars $4.44
Miss Vickie's or Sun Chips $2.97
ED Smith Pure Pumpkin $2.47
French's Ketchup $2.77
Stouffer's Bistro $1.97
Click here to view the full flyer on our forum!