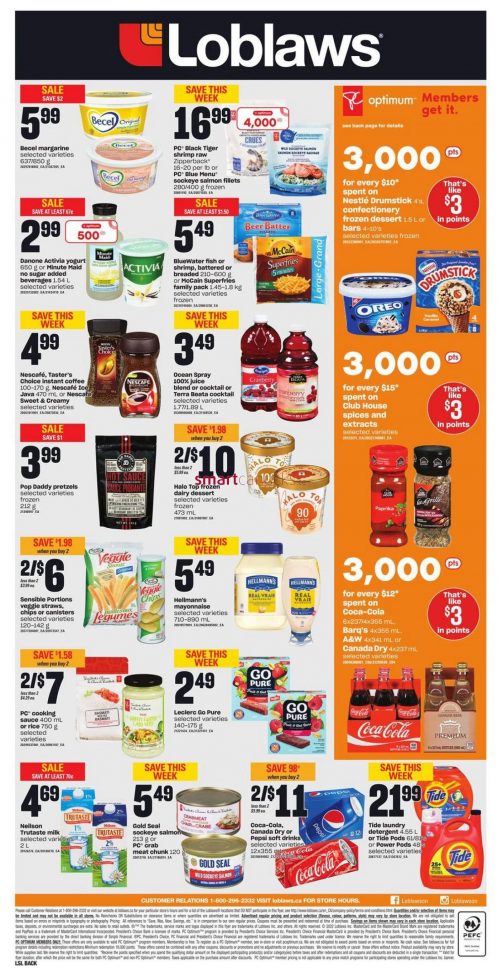 Using your PC Optimum offers is a great way to get more value out of your grocery shops each week. Don't forget that there are also plenty of in-store PC Optimum offers at Loblaws banner stores like Loblaws and Zehrs. Here is the list of in-store offers that you will find at Loblaws Ontario from July the 14th to the 20th:
No Name Potato Chips .88 Member Price
Ziploc Sandwich or Freezer Bags $3.49 Member Price
Farmer's Market Mixed Sweet Peppers 6pk 2,000 PC Optimum Points
3,000 points for every $10 spent on Nestle Drumstick, Confectionary Frozen Dessert, or Bars
3,000 points for every $15 spent on Club House Spices and Extracts
3,000 points for every $12 spent on Coca-Cola, Barq's, A&W, or Canada Dry
Farmer's Market Homestyle Tarts $4.99 Member Price
Whiskas Cat Food 12's $9.99 Member Price
25,000 points for every $50 spent on Iams Dog Food
If you have any personal offers that match up with any of the above offers, don't forget that you have until midnight tonight to save up to four of those offers for use next week.
Click here to view these offers in the Loblaws Ontario flyer.